Wednesday, March 22, 2006
TOUR (and more radio news)
Yes, drowned in sound radio got in on the "playing songs from the new econoline album" trend last week, it's not been broadcast yet but you can subscribe to it via Itune and hear us and many other good things from the drowned in sound people.. get it
here
, in other news after some VERY last minute shifting about, our tour is ready to go
APRIL
THREE, IT'S THE MAGIC NUMBER TOUR,
with Steve A' from blood red shoes on tubs, and his other band projections accompanying us
1/4/06,
LONDON
The Old Blue last, great eastern road, shoreditch
FREE GIG!
It's the right price, come and see our first show with Steve drumming and enjoy the sights and sounds of London's fashionable east end.
2/4/06
NORWICH
The Ferryboat, King street
w/ Pfaff, Giant Robot and the city of Tokyo,
EARLY START
3/4/06
HULL
The New Adelphi Club
w/ Pfaff,
free show
plus
CHEAP PINTS!
4/4/06
NEWCASTLE UPON TYNE
The Stout Fiddler, Newbridge Street
w/ chippewa falls, black static
5/4/06
NOTTINGHAM
DAMN YOU! presents at the Bunker's hill Inn, hockley
w/ Scarecrows, (ex Murder Of...)
6/4/06
OXFORD
The Cellar, Frewin Court
Big Hair Indie rock club 'til 2AM w/ Sunnyvale noise subelement
7/4/06
BRIGHTON
The Freebutt
NO PROJECTIONS! but with Fell City Girl
15/4/06
MANCHESTER
The Klondyke, Levenshulme
econolone solo show with Bearsuit, Voo
18/4/06
LONDON
The Vibe Bar, Brick Lane
GRAND FINALE
FREE SHOW
Projections econoline and muchos perros
please come along and say hello, and if you like buy a copy of "this band isn't funny anymore",
Wednesday, March 15, 2006
RADIO RADIO!
yes firstly on monday
pretty music for ugly people
on Imperial College radio in west london, played our song "the columbia" and then yesterday
Huw Stephens
played "chicks dig scars" as the last song on his show. IT'S LIKE BEING IN A REAL BAND!
CHEERS
Monday, March 13, 2006
MOTHER NATURE!
obviously taking umbrage at my weak joke about snow in the last blog I posted this is what happened in the course of about two hours in glasgow on saturday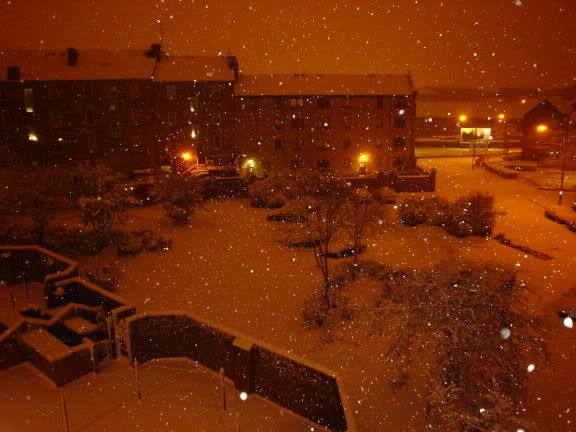 carnage! We ending up deciding the fighting under dressed mentalists for cab's in the middle of glasgow was a fool's errand and walked home with all our gear like real punk rockers should.. and in the morning when we had to go home it was still SNOWING!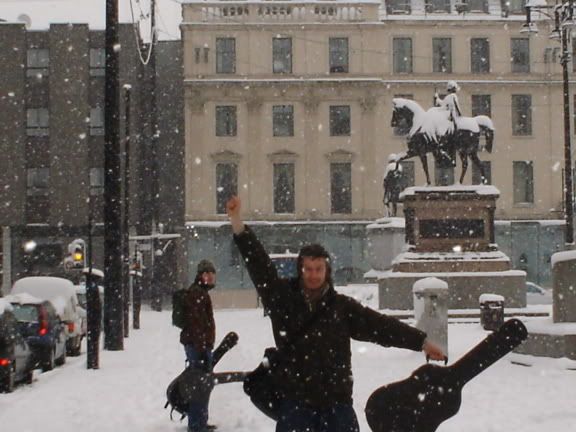 In the background there is Alastair, marceline Uter's flatmate who stoically lead us all the way home and then manfully got up and helped us to carry our stuff to Queen street station! awesome.
GOOD STUFF
MONO in glasgow, how can no one in london have opened a combined boozer/ organic food shop/ restaurant and record store! Many purchases were made, including the new my latest novel album, which is great and the erorrs album on rock action which i've not checked out yet but which comes highly recommended, Piers picked up Hood's "cold house" really cheap, and we also hit Avalanche and got a few other things there too. What a town, except for the bloody snow. Thanks to Uter and mar-c in particular for letting us stay in her new house, next stop, no holds barred rocking out complete with sleeveless vests and steve ansell on the tubs, if the rehearsals are anything to go by i may even get thin by the end of the gigs. For all the dates see below, and have a look at
MYSPACE
for some of the tunes we're doing. The two unreleased tracks on there are going to be on a 7" that we're going to release later in the spring, with two of our folk/ electronic tracks too. THANKS FOR READING STAY WARM IF YOU'RE NORTH OF THE BORDER! ta ian.