Tuesday, February 28, 2006
IT'S SNOW JOKE
Christ I'm a funny guy! So yes both of our last two shows have involved some hefty amount of car travel through the inside of a snow shaker... Piers and I went down to Brighton on thursday to practice with Steve A' from
projections
etc in car covered in snow (although there was none in Brighton, too much sun sea and sand I guess).. and then drove to oxford for that evenings gig to be confronted with even more blizzardish conditions. We actually had to park outside the
eagle and child
, so maybe it was some kind of lord of the rings related weather oddness. To top that I drove back from derby's solo gig last night (monday).. through some properly terrifying, slow down to 10 mile an hour cos you can't see snow storms on the M1, and it was only raining in Derby! Anyway thanks to all the folks we played with
uter
, were (snow) storming, and appropriately icy and futuristic in oxford, headliners
hellset orchestra
were also thoroughly enjoyable (although they remained a bone of contention with some folks, I dug their van ger graf generator/ Sensational alex harvey band stuff. and in London at RoTa, where
SP
provided able laptop support with a nice Davros related monologue as well, and
Fupper
impressed me again with Simon's continually evolving setup, now involving loops and laptop with live guitar and singing.. very nice. Last night was very nice too with Dave from Plans and Apologies acing what turned out to be his first ever solo show... which i guess makes a big difference if there's normally 6 other people in the band, and biff from empemetry doing a cracking version of "accident waiting to happen" by Billy Bragg!
REVIEWS
Something of a novelty for us these days, there are some reviews of our recent gigs up! One of London's launch show at
drownedinsound
and a commendably fast Oxford one at
Oxfordbands.com
. Nice
GIGS
here's what's coming up
10/3 THE SWAMPBAR, CALEDONIAN BACKPACKER'S, EDINBURGH
Baby Tiger
show with Uter and North Atlantic oscillation
11/3 THE WINCHESTER CLUB, THE WOODSIDE SOCIAL CLUB, GLASGOW
with Uter
more tbc in March and April
GOOD THINGS
Scrubs being on pretty much all day at the weekend on paramount comedy! The new absentee album Shmotime, and the new Field music b sides comp' which i blagged at the weekend, My latest novel and Jeffrey lewis last week who were great at the Luminaire which incidentally won london venue of the year in Time Out AND DESERVED IT hats off to them. Although the cake shop next door was nowhere near as good as it looked like it was going to be.. urrrrr. Ta ian.
Monday, February 20, 2006
YAY!
YES! Our record is out, we did the release party on friday at the Buffalo Bar and it was ace! Even though I did miss all of an emergency and most of foals cos I was doing the door! Boo to door people who go to parties! Thanks to all the other bands for lending us stuff and not minding that we headlined despite not having played in over a year! It was great to be onstage making a racket like that, but was really weird, I think we got into it about half way through! Good to see Rowan our old guitar player, and also to have the likes of Chris Summerlin (another former guitarist), and Bob Davis (a former oi band member) in the crowd. More news on the release dates to shops etc to come, 'til then hit
stupidcat's myspace page
and paypal them your money. There's even a very quick off the mark review
at opposition T
comparing us to belle and sebastien, the cocteau twins, the cure and genesis! AWESOME!. lot's of gigs coming up as one would expect at such a point
GIGS!
Uter/ econoline mini tour THING, We have a split tour CDr put together for this I made the card covers last night!
23/2 THE CELLAR, OXFORD
w
uter
/ hellset orchestra
24/2 THE FREEBUTT, BRIGHTON
uter
/ slipstream(ex spiritualised) (no econoline)
25/2 THE NOTTING HILL ARTS CENRE, LONDON
RoTa afternoon free show w/
uter
/
fupper
/
SP
No econoline
27/2 THE GLASSHOUSE/ BAR VIDA, DERBY
Ponce show with the Dust collectors (no Uter)
and then a return fixture in Scotland
10/3 THE SWAMPBAR, CALEDONIAN BACKPACKER'S, EDINBURGH
Baby Tiger
show with Uter and North Atlantic oscillation
11/3 THE WINCHESTER CLUB, THE WOODSIDE SOCIAL CLUB, GLASGOW
with Uter
There's a few more maybe's in march, and then a week in April with some more dotted about. thanks for reading. There's new tracks online at the
myspace
too, including our version of schizophrenia which will be on the tour CDr with Uter. TA ian
GOOD THINGS
The Magic numbers last week in brixton, Chris Brokaw on saturday night in Stoke Newington, Chris S' new last of the real hardmen stuff which we were recording bits of on saturday, seeing Owen Tromans and Matt Tagney in a kind of old time gringo records reunion, earth's new album "hex.. etc", and special offer 3 tubs of biscuit type things from M & S simply food for a fiver . GOOD. VALUE.
Thursday, February 02, 2006
NEW ALBUM AVAILABLE FOR MAIL ORDER!
HOLY LORDY MAMA it's actually back from the press if you go to
stupidcat's myspace page
Paypal will aid you in your mail order quest. For just £8 this item can be yours to own! HOOOOOOOOOOOOOOOORAY also on a paypal tip why not pick up one of the last few of the shirt EPs (now with ties!)
SOLD OUT
Swish I'm sure you'll agree. As a special treat I have also decided to put up some beautiful pic's
1) me on the drums and piers on guitar at the Q Bar in Margate, note Mr Chandler's sensible attire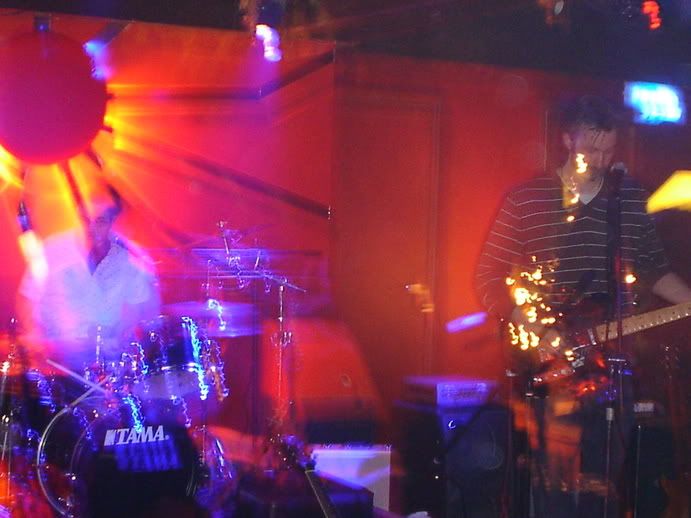 2)but look what happened when my back was turned and we switched around!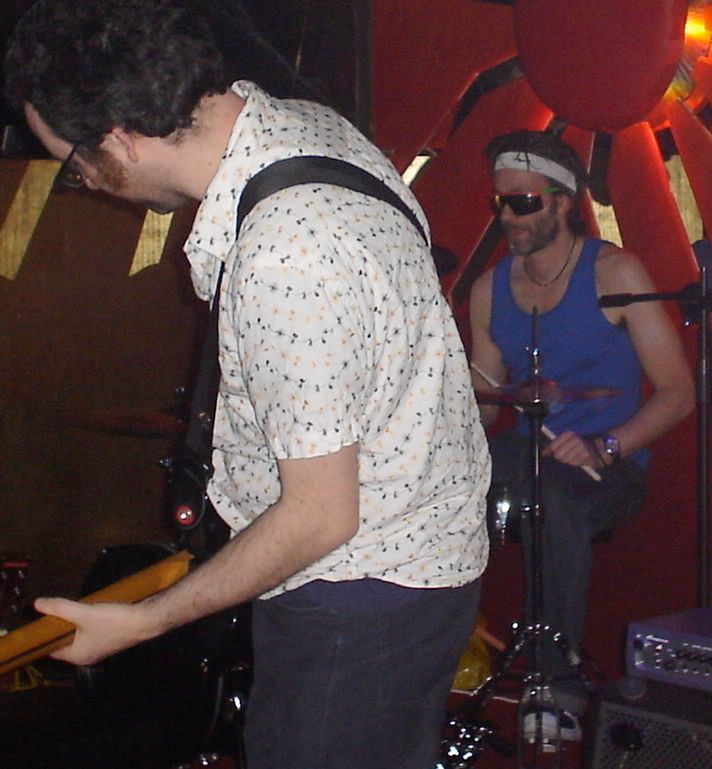 I suggest those of you who own the Neil Young album Harvest Moon go check out the inlay and check out the drummer pictured within,
3) To combat such shenanigans I imposed a strict dress code, here adhered to correctly in the sobre confines of Tim Holehouse's house of holes (not that there were any holes but it has a nice ring to it)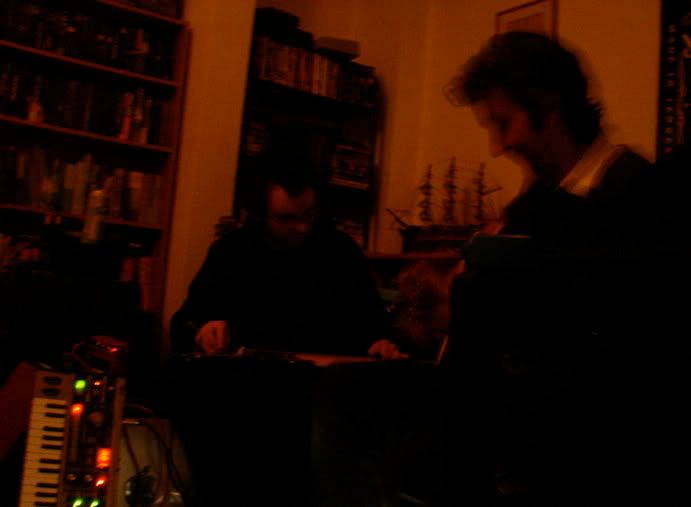 note the lovely model tall ship in the background.. that guys knows decor!
plenty of things are unfolding
GIGS
17/2
Buffalo bar, four piece reunion show with Steve and V' to launch the new record you'll be able to pick it up in person at this show. This is a silver rocket show with Foals, An emergency, and Skiptracer, with the booze and indie rock flowing 'til 4am! Christ.
23/2
Oxford Cellar with
uter
and the hellset orchestra
24/2
Uter play Brighton Freebutt
25/2
Uter play RoTa at the Notting Hill Arts centre with Fupper and SP and econoline DJing action
Plus a whole mess of things being confirmed in march and april, duo shows, full band shows (with steve ansell from projections sitting in on the tubs), and me on my lonesome shows all over everywhere to get the message out that HEY WE FINALLY GOT SOMEONE TO RELEASE OUR ALBUM! THANKS ian,