Friday, October 28, 2005
updates
So just a quick blog to say we're not doing the sheffield gig now, as one of our buddies is off to home to Australia that weekend so Piers is sticking around to see him off. I'm still going to do the Leeds and Manchester gigs on my own though, so come and see me on my lonesome. TA ian

Sunday, October 23, 2005
more airplay and STUFF
Fernando, (THE SAINT) over at
cielo liquido
in spain has played ANOTHER track off our CDr, this time you can also hear the marvellous Pattern is Movement, Broken Social Scene, Pelican and the sinking citizenship over at his website. Rob Da Bank on his late night saturday show
THE BLUE ROOM
on radio 1 was kind enough to play Viborg of the CDr EP again. That show is awesome so if you're travelling late or just up early! at that time on a saturday (5 am I think) it's a proper eclectic mix. In other news we did a couple of gigs this week, and can report that Ryan's Bar in stoke newington has good Thai food, but the juke box was kind of stuck on the story of the clash which got a bit wearing third time round. Friday's show for
knom
at the king's head was great. We looked like this
although we did move a bit as well. In fact Howard from Knom (and
Billy Mahonie
GO AND SEE THEM ON TOUR THIS WEEK) offered to have us back for his special xmas show with the broken Family band, kyote, notorious hi fi killers, and numerous others.. So hopefully he won't forget.
COMING UP
Not much 'til november now, Provisionally
25/11 Sheffield (A PARTY)
26/11 Leeds Packhorse Woodhouse Lane SHHHH! a day of quiet music with
David Thomas Broughton
McWatt
Last of the Real Hardmen
Econoline
Aaron Stout
Sweet Billy Pilgrim
Things in Herds
Benjamin Wetherill.
Viking Moses
info at
Birdwar records
Then in December we've got a few things including hopefully a couple of Xmas party shows.. that we'll be fulling learning carols and stuff for! SMART
GOOD THINGS
Pattern is Movement's
new album, Erin Tobey's self titled album (check www.noidea.com who are distroing it.. like Joanna newsom crossed with Billy Bragg).
Fupper
live last week at the windmill, Lords, Bilge Pump and particularly
SOEZA
live at the Vibe bar for a badge of friendship. The seriously awesome Ragga/ Dancehall versions of "i will survive" and "girls Just wanna have fun" that we heard in the car on radio 1 on the way home on friday at about 1am. The Merch from Ill ease (pink panties!), and making egg's fiorentine with swiss chard for lunch, MMMM.
ta ian
Tuesday, October 11, 2005
GIGS IN THE OFFING
Yes! Some things are happening
20/10/05 RYAN'S BAR 181 STOKE NEWINGTON CHURCH STREET
Rock night satellite 5 we're opening up playing our electronics and drums and guitar set with
Mystery meat, Neon Plastix and beverly, its £4 or £3 if you're an artrocker cardholder
21/10/05 KING'S HEAD 2 CROUCH HILL (CROUCH END)
Local night for local people with Ill ease, we're doing our acoustic set here, expect banjo, accordion etc, £6/5
then we'll be having a rest from that slog and doing some stuff in november out of town
25/11 Sheffield Mike "Flatlands" House party get in touch for invites!
26/11 Leeds The Packhorse SHHH a day of quiet music
27/11 Manchester The Phoenix afternoon show (we're on at 4pm) w D louis Baker and friends, Blood red shoes, Little Explorer, Voo and Surrounded
SEE YOU THERE..
GOOD THINGS, Deerhoof's Green Cosmos, The Fall Heads Roll, Vision Creation New Sun by the boredoms which i just rediscovered, the jeeves and wooster books, The boo radleys compilation that Jane just bought, and the playing the drums
Monday, October 10, 2005
CLAP HANDS SAY YEAH
Yes, as these photo's show, we are not averse to obeying the call of noted new indie rock scion's "clap hands say yeah"
Here, noted drummist V. Magaletti, show's her clapping skills, alongside myself and A. Carruthers of Mute studio beneath we see renaissance post hardcore man S. Ansell doing a touch of clapping at his Brighton studio.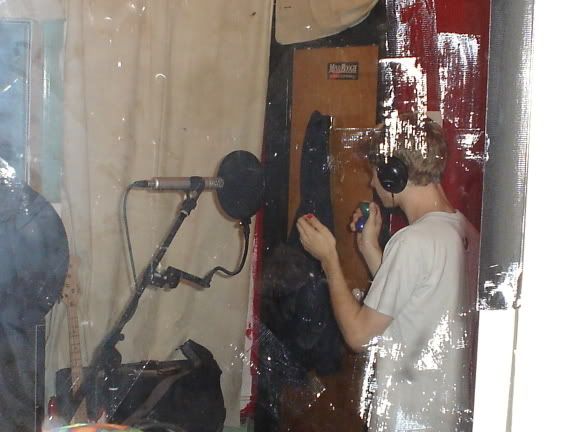 to tell the truth he may actually be playing the percussion instrument known as the egg, but well it's through a window and it was about midnight by the time we were doing all that stuff. The machine we recorded onto used honest to goodness magnetic tape like they did in the last century.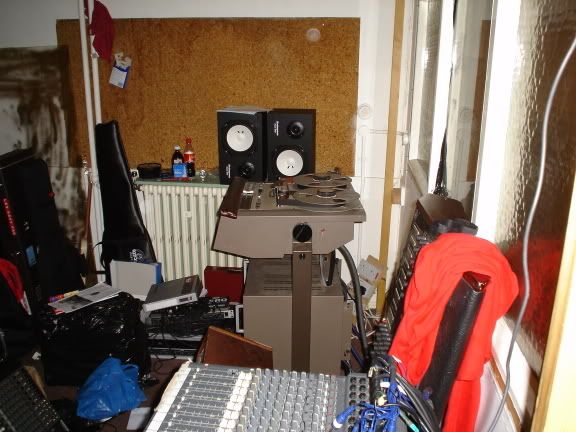 When we were in Mute, we used the limitless bounds of digital technology to use various other hi tech instruments, WOW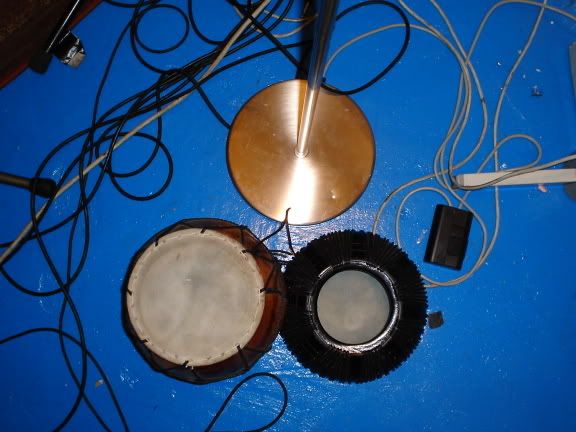 Steve on the other hand only let us use filthy new digital technology (a keyboard) if we agreed to cause Piers potentially longstanding backpain by making him play crouched down like a street beggar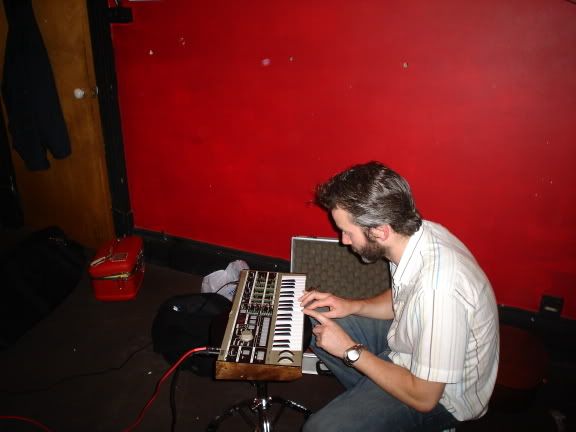 He's a hard task master, but it achieved the "GRITTY" sound we were after. I hope to be able to post some MP3's of this stuff soonest. Expect more details soon, (as well as gig updates and more stuff). TA ian