Thursday, August 04, 2005
SOME CHEERFUL NEWS
There's quite literally nothing we won't attempt to play in our newfound search for the perfect instrument hence my purchase of this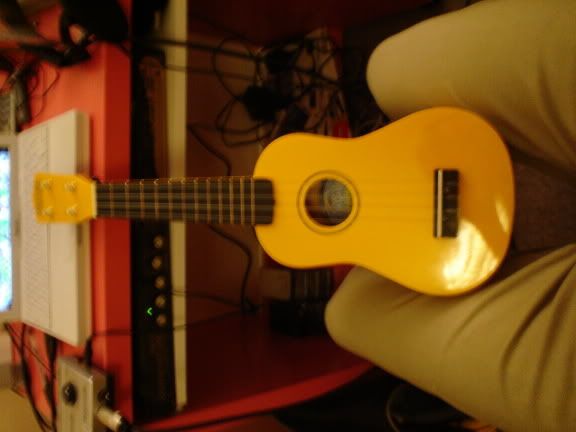 a most excellent ukele, I can already play three chords.. so that's plenty to be going on with.
IN OTHER NEWS
We are keeping up our gruelling once a month gig schedule with another show
DERBY 23/8/05
We don't know where yet, maybe we are just playing the whole of derby. I tell you one thing I do know though, it will rule.
EVEN OTHERER NEWS
The September shows with
Mother Goose
are being postponed, we are both going to wait 'til we have some new stuff out before we do tour. A shame but there you go!
GOOD STUFF
City on film live in brighton last week, Bob Nanna doing "come on eileen" YES (I bought a t shirt), podcasts in general, and eat feed, morning becomes eclectic and
skepticality
in particular , and also the mounting excitement of
GREEN MAN
being only weeks away. HOORAY. Piers went to see the absentee play last week at the marvellous
in the pines club
and reported that they were ace, and he's also went to see them and the broken family band at the Spitz, and that was ace too, whilst at the weekend I went and bought House Tornado by the Throwing Muses (on vinyl), and the new Part Chimp record both (in different ways) are ace... Also good was Cove's Farewell to Pat gig, particularly when an errant member of Charlottefield fell off the bass amp whilst videoing the show, thus ending the song.. and the set, in style. . TA for reading, love ian
Comments:
Yes I agree 'Come On Eileen' was pretty great, I took a video of the chorus, is only about a minute or two long but hey!! it's cool. Was good to say HELLO. might try and hit Derby should you find somewhere to play. have a good week Econoline.
Jamie
People should look at jamie's site
www.fulltar.co.uk
his design stuff is well good innit.
Thanks Jamie!
Post a Comment
<< Home