Wednesday, August 31, 2005
RADIO SESSION
Some news just in, we'll be doing a session for the lovely Glass shrimp people on www.resonancefm.com on 14.9.05 between 5pm and 6pm, put it in your diary, tune in online or if you're london get your wireless to 104.4fm. In related news, today between 5 and 6 they have kent/sussex hot rods charlottefield. SO CHECK IT OUT

Wednesday, August 24, 2005
BACK FROM THE GREENMAN
Got back on monday night from the Greenman where an awesome time was had by all, although less so for Piers on the monday morning when it was throwing it down with rain on his tent. The sound of it almost woke me up in the B & B but I just about managed to get through it. HO HO. Anyway Highlights for me were Superwolf, Joanna Newsom, Alasdair roberts, Scatter, aberfeldy, Broken family, band and the absentee, and lot's of other stuff was ace too, but in the end, the cider (and mead) were the winners overall. I will hopefully put some pictures up from that later in the week. Last nights gig in Derby went staggeringly well, and the organisers laid on cheese and some awesome chutney, that's what shows are all about, more food in DIY. Also we sold almost all of our test run of the new ec' CDr's we've decided we're going to make 100 (that should be enough to break the sewing machine). Hopefully if I've done it right I've added a paypal button below so people can email their address on econolineband@yahoo.co.uk, pay on paypal (either through their paypal account on with a credit or debit card, and be the proud owner of a four track CDr! If that works out, then we'll put some other stuff up online too, we have one box of the go team 7"s left and some copies of the breakfast of champions 7" and the 1st EP too. No gigs booked as we are tantalisingly close to releasing "this band isn't funny anymore" just need to ink the "deal" as it were.. so we'll be waiting for that to be out (still).

good things Greenman, Chutney from Derby, sleeping in my own bed, not wearing the same trousers as I did for four days.

TA, love ian

Thursday, August 18, 2005
So Perhaps you were wandering what our new CDr's in loving handcrafted mini shirts would look like.
WANDER NO MORE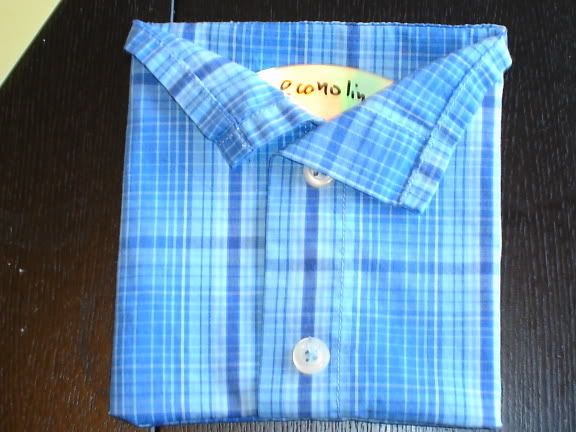 Beautiful I'm sure you'll agree. We're off to the Green Man Festival this weekend and have a gig on tuesday (see below for details), but next week we'll be sending off emails to the people who wanted one. In other news we've booked two studio sessions, one with steve Ansell in brighton, (ANALOGUE all the way) and one at Mute Studios for the hi tech' business, and in otherer news.. We have (hopefully) found a label to put out "this band isn't funny anymore". More news next week! Plus a full report and some pictures from a weekend of beards and cider..
Good Things
this week, Florence, (Dave and Nicola's baby), Des Ark's new mini album, "loose lips sink ships" Darren Baker from Solway fifths solo stuff. (
check it
, green man and attendant excitement, Ted Leo at the underworld last week (and hot snakes), the sneaky preview I got of Part Chimp covering Hawkwind and the fact that I have tickets to go and see the stooges in a week or so.
Wednesday, August 10, 2005
DETAILS
So yes we have details for the Derby Show in a week or two
THE SECOND NIGHT OF LOVELINESS 23/8
featuring
ECONOLINE and
STEPHEN M. ROE
Free buffet and a fillum for all.
£2
doors 8pm
VIDA BAR, queen street, derby (opposite Derby Cathedral)
So, big thanks to Biff from the little Explorer/ Empemetry for sorting this out. I've been reliably informed that Stephen M. Roe's CDr "songs about maps" is a cracker.. We will have some CDr's of our new (REALLY NEW as in finished last weekend) material in fetching hand stitched sleeves.. they'll be £2 and if you leave a message here, (and you can now as I changed the settings so you don't have to be logged in).. we can also email you about getting them mail order.. the tracklisting will be a lucky dip of four tracks from the 8 or so we have finished. They're all hot off the laptop. Also if you run a record label (a nice one mind, you know what I mean).. get in touch with us.. we have a whole bunch of things which we'd like to talk about.
this weeks list of good things, Ben and Jerry's dublin mudslide ice cream, little cans of heineken shaped like beer barrels,
this website
and "Harvey Milk; the singles" album, now that's what I call harsh.
LOVE TO ALL
Thursday, August 04, 2005
SOME CHEERFUL NEWS
There's quite literally nothing we won't attempt to play in our newfound search for the perfect instrument hence my purchase of this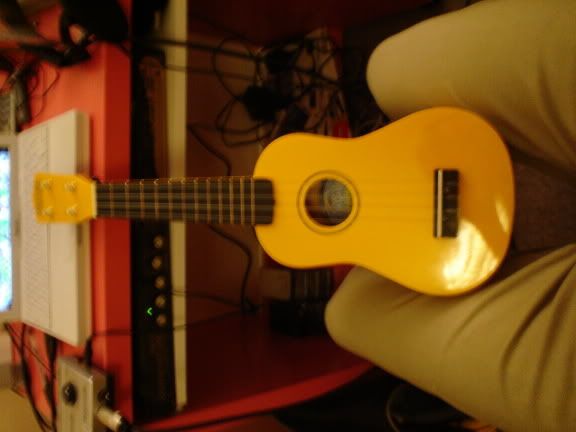 a most excellent ukele, I can already play three chords.. so that's plenty to be going on with.
IN OTHER NEWS
We are keeping up our gruelling once a month gig schedule with another show
DERBY 23/8/05
We don't know where yet, maybe we are just playing the whole of derby. I tell you one thing I do know though, it will rule.
EVEN OTHERER NEWS
The September shows with
Mother Goose
are being postponed, we are both going to wait 'til we have some new stuff out before we do tour. A shame but there you go!
GOOD STUFF
City on film live in brighton last week, Bob Nanna doing "come on eileen" YES (I bought a t shirt), podcasts in general, and eat feed, morning becomes eclectic and
skepticality
in particular , and also the mounting excitement of
GREEN MAN
being only weeks away. HOORAY. Piers went to see the absentee play last week at the marvellous
in the pines club
and reported that they were ace, and he's also went to see them and the broken family band at the Spitz, and that was ace too, whilst at the weekend I went and bought House Tornado by the Throwing Muses (on vinyl), and the new Part Chimp record both (in different ways) are ace... Also good was Cove's Farewell to Pat gig, particularly when an errant member of Charlottefield fell off the bass amp whilst videoing the show, thus ending the song.. and the set, in style. . TA for reading, love ian
Tuesday, August 02, 2005
Josefina De Vasconcellos
More sad news, one of the worlds oldest living artists died last month,
Josefina De Vasconcellos
, she was 100 years old, her work was often associated with sites of conflict and concerned with the prospect of peace, she had sculptures at Hiroshima's peace Park, the Berlin wall, and in Stormont castle as well as all over mainland Britain. One of the new songs we've been playing at all our recent gigs was about her, I heard her speak on a radio 4 documentary last year and was massively inspired, she'd been doing her thing for more than three times as long as i've been alive. We salute her!