Wednesday, July 20, 2005
THANK YOU LONDON
Or at least, those residents of London that came out on tuesday night to catch us opening for thee more shallows and Rothko, both of whom sounded awesome in the TEENY TINY confines of the Betsey Trotwood. Kim from Monotreme did a fantastic job and I look forward to listening to TMS' sesssion on Rob Da Bank's One world show.. complete with Al Green cover. SWEET. What did we look like shoe horned into such a place you might ask? Luckily my brother Neil was on hand to provide a pictorial answer to that question.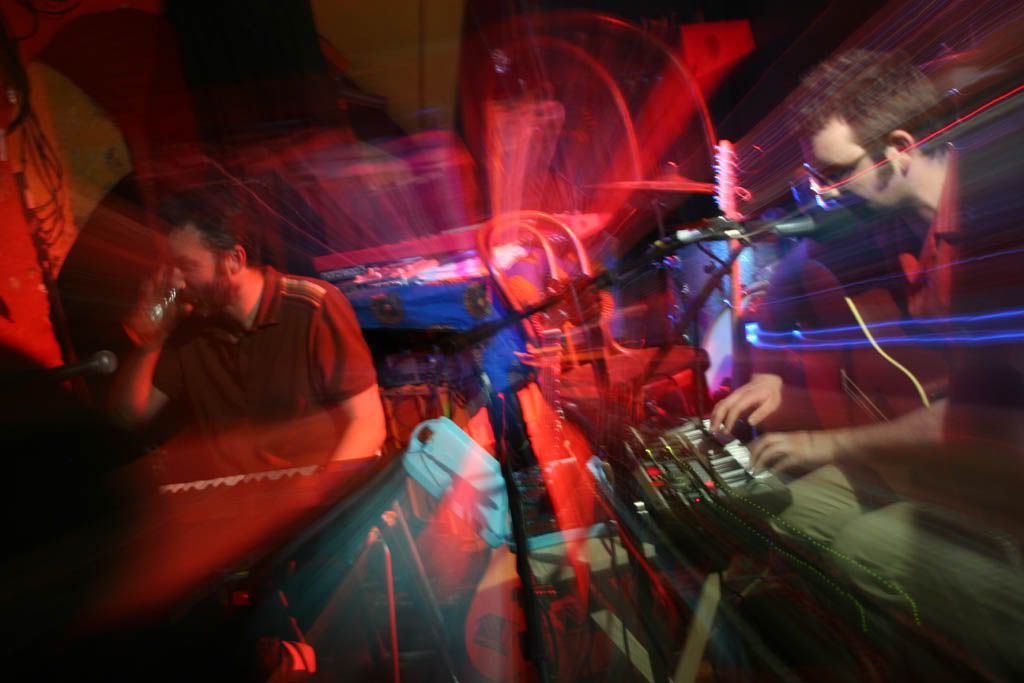 You will note that Piers Chandler took every opportunity to choke down more of his favourite ale at this show.. this is because he was getting the guts up to do this
but he needn't have worried as he brought it, as the WWE folks might say. I guess now we are kind of like they might be giants now, only without the chart success, jokes, kid's albums and money.
THE FUTURE
Is a bit quiet, at some point "the columbia" will be available as a ltd CDr single and our 2nd album might be out.. but in more concrete plans
LIVE
in September we will be playing some shows around the UK with our Finnish buddies Mother Goose.. who may also be playing some shows as Damo Suzuki's "sound carriers" around the same time. I saw the can legend's show with member's of Wolves! of greece/ lords/ bilge pump last year in Nottingham and it was amazing nearly an hour and a half of purely improvised SHTUFF. I am crossing my fingers that we may be involved in the actual sound carrying, but we'd have to learn to play something well enough to improvise properly.. so keep hoping.
RECORDS
Also we have provisionally booked some studio time to record some indie rock style goodness to complement the stuff we've been doing in our home studio (my bedroom and piers frontroom.. my bedroom is smaller but at least piers' cat doesn't jump on the computer when we're in there). We're going into Mute studios in early september.. As soon as stuff is done we will be touting it about all over the shop.. don't you worry.
SO
Ta ra for now, things I have enjoyed this week, Thee More Shallows (!), The Magnetic Fields 69 love songs on my itunes, Nando's hot chicken BITS, the trailer for Peter Jackson's King Kong, the Dinosaur Jr interview in this weeks onion, and Piers has been digging on that latest Hood album, and also some recently rediscovered tapes of Nina Nastasia, and Stereolab's emperor Tomato Ketchup.. I could've nabbed them but I'm an honest man.
LOVE TO ALL