Friday, July 22, 2005
Silkworm
Just read some bad news, the drummer from Silkworm, Seattle based indie rock fellows, was killed in a really nasty car accident, details are on

www.pitchforkmedia.com

I saw Silkworm at ATP in 2002 having no real idea about them at all, and myself and Steve, the bassplayer in econoline at the time, were totally into them, they were just a really great indie rock band, I managed to buy most of their records since then, and the albums "The Italian Flag", "firewater" (a double concept album about BOOZE) and "lifestyle" have become firm favourites of mine, if you like Guided By voices, Spoon, neil Young and pavement and that sort of thing well you would dig Silkworm. What a sad businesss.

Wednesday, July 20, 2005
THANK YOU LONDON
Or at least, those residents of London that came out on tuesday night to catch us opening for thee more shallows and Rothko, both of whom sounded awesome in the TEENY TINY confines of the Betsey Trotwood. Kim from Monotreme did a fantastic job and I look forward to listening to TMS' sesssion on Rob Da Bank's One world show.. complete with Al Green cover. SWEET. What did we look like shoe horned into such a place you might ask? Luckily my brother Neil was on hand to provide a pictorial answer to that question.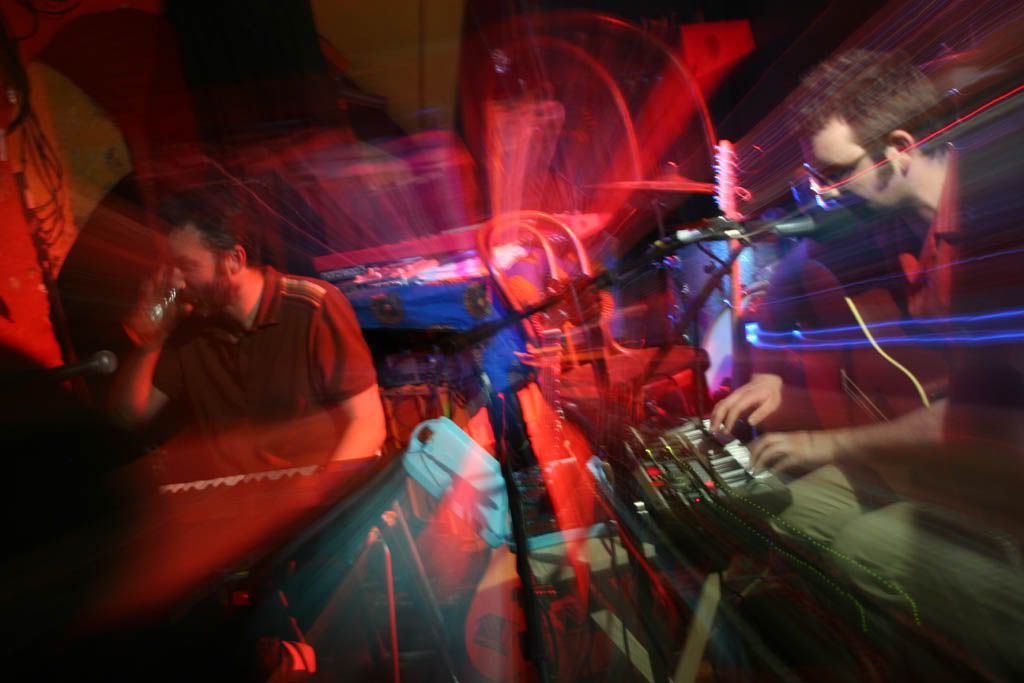 You will note that Piers Chandler took every opportunity to choke down more of his favourite ale at this show.. this is because he was getting the guts up to do this
but he needn't have worried as he brought it, as the WWE folks might say. I guess now we are kind of like they might be giants now, only without the chart success, jokes, kid's albums and money.
THE FUTURE
Is a bit quiet, at some point "the columbia" will be available as a ltd CDr single and our 2nd album might be out.. but in more concrete plans
LIVE
in September we will be playing some shows around the UK with our Finnish buddies Mother Goose.. who may also be playing some shows as Damo Suzuki's "sound carriers" around the same time. I saw the can legend's show with member's of Wolves! of greece/ lords/ bilge pump last year in Nottingham and it was amazing nearly an hour and a half of purely improvised SHTUFF. I am crossing my fingers that we may be involved in the actual sound carrying, but we'd have to learn to play something well enough to improvise properly.. so keep hoping.
RECORDS
Also we have provisionally booked some studio time to record some indie rock style goodness to complement the stuff we've been doing in our home studio (my bedroom and piers frontroom.. my bedroom is smaller but at least piers' cat doesn't jump on the computer when we're in there). We're going into Mute studios in early september.. As soon as stuff is done we will be touting it about all over the shop.. don't you worry.
SO
Ta ra for now, things I have enjoyed this week, Thee More Shallows (!), The Magnetic Fields 69 love songs on my itunes, Nando's hot chicken BITS, the trailer for Peter Jackson's King Kong, the Dinosaur Jr interview in this weeks onion, and Piers has been digging on that latest Hood album, and also some recently rediscovered tapes of Nina Nastasia, and Stereolab's emperor Tomato Ketchup.. I could've nabbed them but I'm an honest man.
LOVE TO ALL
Monday, July 18, 2005
Yacht club = RUBBISH
July 18th
I didn't get a chance to post/ mail anything over the weekend so I'm terribly sorry if anyone tried to get along to the Yacht Club gig on sunday, the "people" at the venue decided to nix the show with some lame excuse about double booking which is too tawdry to go into here, the folks at www.jonsonfamily.com had a good rant about it, and rightly so. Anyway we still have our gig tommorow! So please come along if you're in town..
Tuesday 19th July
Betsey Trotwood Faringdon, it's Thee More shallows headlining, with Rothko, and us opening, I would assume we'll be on around 8.15 or so, so it's an early one!
Here's some details as to how to get there (with the current tube problems).

The Betsey Trotwood, 56 Farringdon Road, London, EC1R 3BL.

Farringdon tube station: the only line currently running through the
station is the METROPOLITAN LINE (the metropolitan line is however not
running between Moorgate and Aldgate). The Circle line and Hammersmith &
City line are suspended.
However, there are other fully functional tube stations close to the
Betsey Trotwood. The closest are Chancery Lane and Blackfriars, both of
which are only a 10-15 minute walk from The Betsey Trotwood.
Chancery Lane is on the Central Line. Exit the station and head east
(towards Holborn Circus). Turn left on to Chapterhouse Street, then
left when you get to Farringdon Road. The Betsey is 5 mins up the road on
the right.
Blackfriars is on the District line. Take Exit 1 out of the station,
and walk up New Bridge Street. New Bridge Street turns into Farringdon
Road, so just keep going straight ahead until you come to the Betsey on
your right, opposite the Guardian building.

Thameslink: Thameslink services are running normally into Farringdon.
See http://www.thameslink.co.uk for more information.

Bus: Bus services in the area are running normally, see
http://www.tfl.gov.uk/buses/spiders/pdf/farringdon.pdf for buses in the
area.

Hopefully we'll see you there. Things we have been liking these past weeks, a whole bunch of boot sale vinyl Jane found, including a Tyger's of Pan Tang 7" with them doing "love potion no. 9". the wreck of Old 98 album. The Hold Steady's new record "separation sunday" on french kiss, which is amazing! The Tom Vek single that's on the radio, the superwolf album which i have finally got around to giving a good listen, and Piers' just bought the new Hood album and "Secret Wars" by Onieda. We have our fingers on the pulse of a couple of months/ years ago! TA TA ian

Tuesday, July 12, 2005
Hot, HOT, HOT
July 12th,
So with London being bombed and all that last week I didn't get round to posting, hope all is well with everyone we know in London, I think I saw/ heard from most of the folk we know, let's hope we all stay that way. Anyway..
GIGS
We have two in the next seven days
Sunday 17th July
Jonson family/ noisestar all dayer at the Yacht club Victoria Embankment WC2R 2PN there's a map here
http://www.multimap.com/map/browse.cgi?pc=WC2R+2PN
WHAT A LINE UP
Part Chimp - 10.30 - Finish
Bilge Pump - 10.00
The Wow - 9.30
Thee More Shallows - 9.00
Hey Colossus - 8.00
Headquarters - 7.30
Blood Red Shoes - 7.00
Querelle - 6.30
The Arm - 6.00
Itch - 5.30
Hotplate - 5.00
Yuchi - 4.30
Charlottfield- 4.00
Econoline - 3.30
Montana Pete - 3.00
as you can see we are on early doors, tickets are available in advance here
http://www.ticketweb.co.uk/user/?region=uk&query=detail&event=131421
for £6.50
nice directions are on www.noisestar.co.uk
then
Tuesday 19th July
at the Betsy Trotwood on faringdon road http://www.plumpromotions.co.uk/ for directions
This is with Rothko, playing post rock niceness, from London, and Thee More shallows, playing beautiful US indie rock tunes, from San Francisco.
This is £6.. but mail me if you want to get on a paying list (AND GIVE ME A REASON I SHOULD DO IT TOO!). TA ian