Monday, June 27, 2005
End of June hot summer type NEWS
Hi, it's been a long time (ish) since we rapped at ya, but we've kind of been beavering behind the scenes, and thought we'd keep much of it to ourselves you know. ANYWAY, Some news we have a gig in London next month

Tuesday July 19th
The Betsy Trotwood, Faringdon, We'll be playing with thee more shallows, a kind of Yo La Tengo/ built to spill/ beautiful tuneage type band from San Francisco www.theemoreshallows.com, and noted experimentallers Rothko from London, i'm not sure what line up they are rocking these days, I still remember the three bassists from the first time i saw them confusing people in the hope 'n' anchor around the turn of the century (!). Two bands whose records I have enjoyed. Thee More Shallows are over to record a session for Rob da Bank, and are on the marvellous www.monotremerecords.co.uk which is worth a visit should you enjoy the likes of 65 days of static, Stinking Lizaveta or Picastro (as well as TMS) ..


also i stumbled upon

http://www.tunetribe.com/Album?album_id=17260

which is one of our new tracks for 86p! A BARGAIN. This is the below mentioned download of the Columbia from "this band isn't funny anymore" so if you have 86p burning a whole in your bank account.. why not check it out. In other news our good buddy Bas is over with his band the Ik Jan Cremers who sound to these ears like a cross between evil superstars and Bilge Pump, and ROCK. They are playing London, bardens room 2 www.bardensbar.co.uk with my other band hey colossus on 8th July, and leeds chinchilla fest at the brudenell social club on 9th of July. So support the international noisy oddness scene and get along to them.

Things that have been rocking these past weeks

Joanna newsom's the milk eyed mender, the broken family band live (and their new album, welcome home loser), currituck county live, the film "trading places", seinfeld season four on paramount comedy (Sneakily timed to make me buy the DVD), Dinosaur Jr still ringing in my ears from the first week of June. My nieces and nephew on their trampoline. The last episode of Dr Who, the magic numbers single forever lost, eaves (superb german metalcore) live, and their album, Trojan Dub hits CD (including the skatalites version of "Guns of Navarone"), Stowford press cider, flip down sunglasses to go over my spec's and factor 30 sunblock.

Tuesday, June 07, 2005
NEWS
LOOK if you want to go to Holland expect this sort of thing to happen all the time,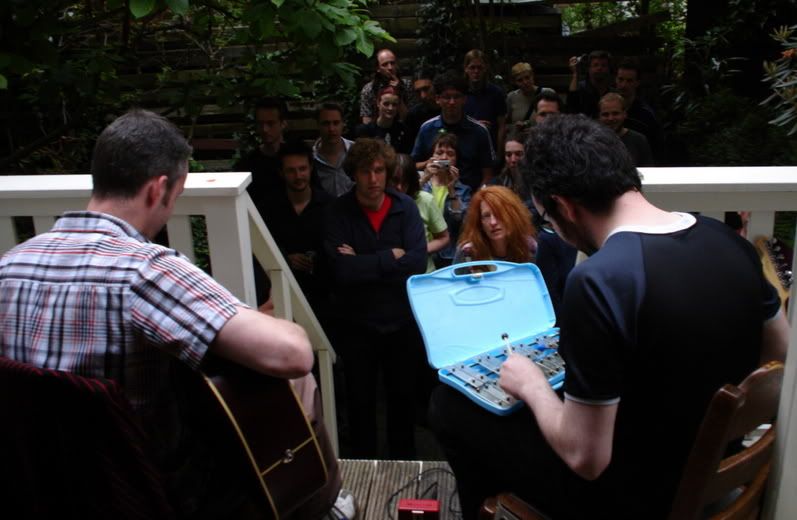 Or maybe that was just because we were hanging with this dude
Bas Jacobs, noted poet, label guy, bass player, guitar player arranger of smart weekends.. Here he is pictured DECLAIMING a goddamn poem in his back garden last sunday, where we swiftly followed him by playing some of our music. It was ace! We spent the whole day wandering around the east side of amsterdam to art galleries, bike shops, peoples houses and the like and watched a load of people do little solo sets and full bands whilst eating food people had prepared for us and drinking free booze. I imagine heaven is pretty similar. We also played with one of Bas' bands the day before, that looked like this
This is Pfaff rocking the Dutch country folks in Emmerlord which appeared to be the dutch version of Milton Keynes.. BUT WITH A GREAT ROCK CLUB! We had a good time there too, hopefully we will be able to get back to Holland once we have some stuff released again, and maybe to visit some other euro buddies of ours in Norway, Finland, Italy and Ireland.. that's all to come later in the year!
BUT FIRST
We actually finished the album "this band isn't funny anymore" months ago (or more accurately Dave Holmes finished it for us as we don't have a clue about that sort of thing. Lorraine from Seriously Groovy has laid out Valentina's artwork and there's an animated ad on the seriously groovy site that gives you an idea of just how swish it will look. So obviously we're just waiting for the last few piecs of the jigsaw, but just the other night, after coming roughly last in the local pub quiz, Piers and I finished the B sides for the columbia CD EP.. That track was available online from www.seriouslygrooy.com but dashed soon it will be available for mail order as a 5 track CDr EP in handmade sleeves.. We finalise details on thursday with a bit of luck.. and once the EP is out we wager that the album should follow?
AND FINALLY
Things that have been rocking me,
Lego Star Wars for the playstation 2, (WOW), Enablers, who also played in Emmerlord and were ace, Oneida live last week in London.. insanely good, the prospect of dinosaur Jr's original line up is what's keeping us awake at nights this week, and we also enjoyed these crazy snack things in holland which appear to be chip shop curry sauce wrapped in bread crumbs and deep fried. Holy moley you should try one, they're called Kroket's, consider yourselves told. TA ian
Thursday, June 02, 2005
Spanish Radio session online
A quick post, just to say that our session was broadcast on Spain's Cielo Liquido on monday, and it's online

www.cieloliquido.net

you can listen to it in the show.. or as individual tracks.. I'll do a longer post this weekend with some pic's from our gigs in Holland last weekend.. Where we had a great time.. so BIG up to Bas Jacobs from Pfaff for sorting it all out, driving us around and generally being a lovely chap.