Sunday, May 15, 2005
TA!
To all those who popped out to see us last week, and of course to those responsible for the evening's entertainment, "Mad Prop's" as the Hip Hop fellows say, to steve Ansell (former Cat on Former, and currently in the soon to be in your face Blood Red shoes, and projections) who did sound for us at the freebutt in Brighton. We got a really good Minidisc of the gig which will be online someplace soonish.. possibly also we may give some tracks to Spain's premier indie radio show www.cieloliquido.net.. more news on that soon. Anyway as we were busy recording audiological evidences of the show on tuesday there's no pic's but if you were wandering what two men playing instruments in a dark room look like. WANDER NO MORE, as these spectacular images from Saturday's RoTa show, (it's a wicked saturday afternoon freebie in notting hill, in west london)
but with the flash on we looked more like this
and this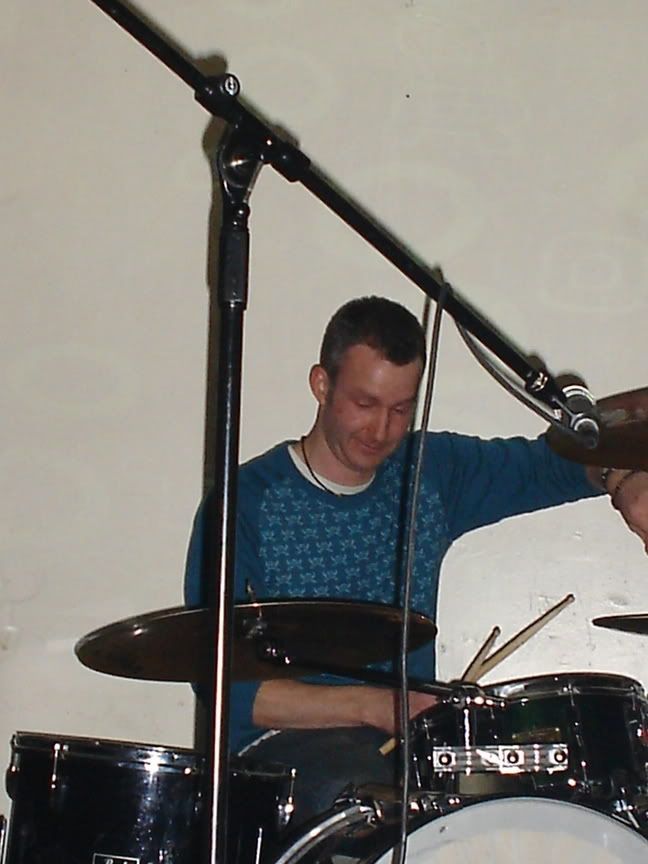 You decide which is best. All pic's Jane Torr media enterprises limited. Eagle Eyed (with gripping hands) observers may note that I am using a very nice 60's ephiphone in that picture. Which was kindly loaned by Simon Hughes of electro Can/ faust/ general smartness monsters Blackhorse. They opened at RoTa and were amazing. Pfaff and Blues Brother Castro bought the Dutch garage rock/ sonic youth style indie rock vibes too, and both were thoroughly enjoyed by the good people of london and some very nice russian tourists who happened to be there too. INTERNATIONAL PEACE and UNDERSTANDING through the rock. beautiful. Next shows are in Holland as stated below. After that we're going to concentrate on finishing the album. Tracks so far recorded include songs about architect's, sculptors, the extinction of the tasmanian tiger, being a child in 1982, and getting a haircut.