Thursday, May 26, 2005
NEWS
HELLLO! So just before we hit the continent for some bank holiday action, I thought i'd put the details up one more time!


Saturday 28/5 we play Emmelord, O.J.C. De Klos, with Enablers, (awesome poetry spiel over serious slint sounding moodiness from dudes who used to be in the swans and the toiling midgets), Pfaff (our two drumming nutso buddies), an Dan Geesin, a fellow english man, so at least we might be able to band together and get a nice cup of tea, WOT WOT. Details are on here

http://www.de-klos.nl/

it looks fancy, I AM EXCITED.

Sunday 29/5 we play in amsterdam, "Wijsjes uit het Oosten" at 36B amsterdam, christ knows where this is, all I know for now is that we play in the afternoon in a house and then in the evening at an art gallery which sounds SWISH!


in other news I just sent three songs to the chaps at www.cieloliquido.net The tunes are,

The Slate Wiped Clean
Lend me a friend
I'm Plagued

all recorded live at the Freebutt in brighton on 10/5/05 (mixed by Steve "cat on form" ansell) to give a flavour of our new wholesome sound..

On a related tip I saw one of Steve's new bands this week, Projections.. it was smart, like late fugazi mixed with the rhythmic side of Oneida. Enjoyable, they were unlucky to be playing with Lords though who were ON FIRE and beat the hell out of everyone in the room. They ruled.. check them out www.honeyisfunny.com/lords.. Piers on the other hand went to see Star Wars.. I don't want to spoil it for anyone.. but it turns out that annoying kid, well he turns into Darth Vader. I didn't see that one coming. I've decided to finish each post with a "stuff I am liking right now" list

new series of scrubs on E4, armando iannucci's charm offensive on radio 4, the new blackhorse 10" on tritone, Superwolf album, "Woman King" EP by Iron and Wine, the postal service record(s), can't beat red vinyl, Prolapse's "the italian flag", Yeo valley organic bio yoghurts (two packs for the price of one at waitrose), the absentee's free download track from Playlouder.com, and finally all of the first three dinosaur albums in preparation for their show next week. COME ON! TA

ian

Sunday, May 15, 2005
TA!
To all those who popped out to see us last week, and of course to those responsible for the evening's entertainment, "Mad Prop's" as the Hip Hop fellows say, to steve Ansell (former Cat on Former, and currently in the soon to be in your face Blood Red shoes, and projections) who did sound for us at the freebutt in Brighton. We got a really good Minidisc of the gig which will be online someplace soonish.. possibly also we may give some tracks to Spain's premier indie radio show www.cieloliquido.net.. more news on that soon. Anyway as we were busy recording audiological evidences of the show on tuesday there's no pic's but if you were wandering what two men playing instruments in a dark room look like. WANDER NO MORE, as these spectacular images from Saturday's RoTa show, (it's a wicked saturday afternoon freebie in notting hill, in west london)
but with the flash on we looked more like this
and this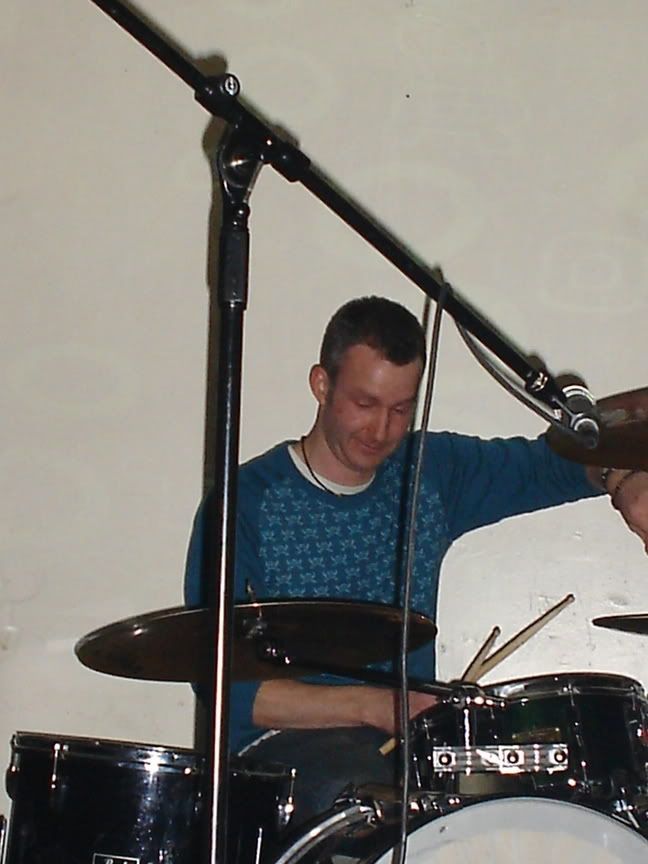 You decide which is best. All pic's Jane Torr media enterprises limited. Eagle Eyed (with gripping hands) observers may note that I am using a very nice 60's ephiphone in that picture. Which was kindly loaned by Simon Hughes of electro Can/ faust/ general smartness monsters Blackhorse. They opened at RoTa and were amazing. Pfaff and Blues Brother Castro bought the Dutch garage rock/ sonic youth style indie rock vibes too, and both were thoroughly enjoyed by the good people of london and some very nice russian tourists who happened to be there too. INTERNATIONAL PEACE and UNDERSTANDING through the rock. beautiful. Next shows are in Holland as stated below. After that we're going to concentrate on finishing the album. Tracks so far recorded include songs about architect's, sculptors, the extinction of the tasmanian tiger, being a child in 1982, and getting a haircut.
Tuesday, May 03, 2005
GIGS
Yes we have some coming up


10/5/ 05 Brighton, the Freebutt, Albion Place, it's the brighton festival this week and this gig is part of the brighton fringe with us, cello bela, GRzzly and Twisted Scantling.. It's £5 in arranged by the dudes at Slightly Off Kilter.

14/5/05 London Notting Hill Arts Cafe, RoTa afternoon FREE gig, this place is great, does cheap booze and the show's run between 4pm and 7pm.. THERE WILL BE MUCH JOY HERE, econoline, with Pfaff from holland doing their crazy two drummer thing, and Joe/ Simon Stanton's new expansive, electronic but human sounding project BLACKHORSE.. (it's all one word apparently).

Then we're off to Holland,

28/5/05 Emmeloord O.J.C. De Klos to play with Enablers, Pfaff, and Dan Geesin. there's a website here.. http://www.flevocultuur.nl/noordoostpolder/deklos/3350.html but it's all Double dutch to me.. haha .. sorry,

29/5/05 Amsterdam "Wijsjes uit het Oosten" festival, 36B, Amsterdam. I think this is actually being held in a bunch of different people's houses and loads of different people are performing and doing their THINGs it will be smart! Details are on

http://pfaff.musicweb.nl again some dutch implied.



In other news, I saw the broken family band the other day, and lo it was good. The absentee opened and were pretty grand too. I also managed to catch I had an inkling, from manchester, opening for 65 days of static at the garage and they were post punk as all get out, I thoroughly enjoyed their fall stylings. Piers also went out and saw six toes with their new cellist at teh 12 bar, which I am informed was most enjoyable, we recorded some B sides (4, COUNT THEM, 4) for a mooted handmade CDr EP on Seriously Groovy after the fashion of the emetrex ones they did. So expect it to come in a nice fabric bag and look HOT. Lead track will be former download tune and former Steve Lamacq/ John kennedy hot sound (well they both played it more than once). The Columbia, which is about a hotel, in west london, that I went to once, and had a drink with the guitarist from thrash metallers testament, he was a top chap, but in general I came down in the against lobby wrt to that particular establishment. TA ian.